Biography: Tradition & Innovation
Academic Year 2018-19
Semester 1 & 2
Welcome to Biography!

1 item

This module is designed to introduce you to the widest possible range of contemporary practice in biography. What follows is a selection of interesting or notable texts. I will refer to some of these in class and will post key excerpts on Blackboard. Your job is to explore! Read as widely as possible, follow your own interests, and use this list as your starting point. If you are unsure what to read, please contact Ursula for advice.

The following texts are important because they set out the concepts with which we will be working in terms of the postmodern context, and offer critical work on what we mean by 'biography': what is it? What happens when we write it?

'Biography Today' - Nigel Hamilton

Chapter A helpful introduction to the development of biography as a historical form, plus a brief overview of its current state. This is a good place to begin! This is a digitized item which can be accessed directly via this module on Blackboard

The Proper Study? - Richard Holmes0197262694,0197263186,9780197263181

Chapter In this chapter, Richard Holmes asks a rather provocative question: is biography a proper subject for an academic course? I think we're all interested in the answer!

Preface - Foley, Barbara0393312860,9780393312867

Chapter A critical work, exploring the borders between fiction and 'fact'. Currently not in stock as title is out of print.

Biography and Research Method - Erben, Michael

Chapter While the educational potential of biography is an interesting subject in its own right, this first chapter is very useful for anyone considering how research methods apply to the practice of biography.

Interpretive biography - Norman K. Denzin c19890803933584,0803933592

Book One of the few texts to look not at defining what biography is, but what it does. Clear and helpful discussion of all the main considerations when working in this form.

Reality hunger: a manifesto - David Shields 20110141049073,9780141049076

Book A fascinating critical/creative collage text, in which Shields collects quotations from other authors to show how contemporary culture seems to be obsessed with 'reality'.

History meets fiction - Beverley C. Southgate 2009

Book Shows where fiction can illuminate 'the dark areas of history' to arrive at a 'greater truth'.

The Distinction of Fiction - Dorrit Cohn 20009780801865220

Book A critical discussion of the borderlines between history and fiction, and how readers decide what it is that they are reading.

Creative texts - varying examples of contemporary biographical practice

Circles around the sun: in search of a lost brother - Molly McCloskey 20129780241952160

Book This text illustrates the autobiographical stake in any work of biography. Here it is highlighted as the author undertakes the emotionally challenging task of understanding her brother's life and illness, its effect on her family, and most importantly, its effect on her own life.

Flush - Virginia Woolf, Kate Flint 20099780199539291

Book We look at this book in class - a great model for alternative perspectives and for writing with the senses.

Maus: a survivor's tale - Art Spiegelman, Art Spiegelman, Art Spiegelman 20030141014083,9780141014081

Book Not only interesting for its graphic novel format, but also a really useful model for balancing the autobiographical stake with the life of another.

Dotter of her father's eyes - Mary M. Talbot, Bryan Talbot 20120224096087,9780224096089

Book Part personal history, part biography, Dotter of Her Father's Eyes contrasts two coming-of-age narratives: that of Lucia, the daughter of James Joyce, and that of author Mary Talbot, daughter of the eminent Joycean scholar James S. Atherton. Social expectations and gender politics, thwarted ambitions and personal tragedy are played out against two contrasting historical backgrounds, poignantly evoked by the atmospheric visual storytelling of award winning comic artist and graphic novel pioneer Bryan Talbot. Produced through an intense collaboration seldom seen between writers and artists, Dotter of Her Father's Eyes is intelligent, funny and sad - a fine addition to the evolving genre of graphic memoir.

Rory & Ita - Roddy Doyle 20030099449226,9780099449225

Book We look at this book in class - both for its use of detail, and for the way in which the author works with the voice of his subjects.

The tragedy of Mariam: the fair queen of Jewry - Elizabeth Cary, Margaret W. Ferguson, Barry Weller c1994

Book This play is by Elizabeth Cary, the subject of my own biography-in-progress. Also included in this edition is a biography of Cary by one of her daughters. So not only was Cary the first woman in England to publish a play in her own name, but she was also the first subject of a literary biography!

The biographer's tale - A. S. Byatt 2001009928393X

Book Described by the publisher as a novel, this text is in my opinion a very interesting piece of "metabiographical" criticism.

All the beloved ghosts - Alison MacLeod 20171408863766,9781408863756,9781408863763

Book We will explore this text when we look at the boundaries between biography and fiction. In particular we will look at the first story, 'The Thaw' (personal history written as fiction) and 'Sylvia Wears Pink in the Underworld' (an interesting variation on biographies of Sylvia Plath). This collection of short stories is also very interesting in terms of form - it shows how short fiction can do powerful biographical work.

London: the biography - Peter Ackroyd 20030385497717,9780385497718

Book An example of two things: a biography about a thing, rather than a person; and a biography that is organised thematically rather than chronologically.

Mad girl's love song: Sylvia Plath and life before Ted - Andrew Wilson 20139780857205889

Book A literary biography. Interesting for the way in which it plays upon the reputation of another writer (and we can discuss the gender politics of that) but note how the text focuses on one period of the subject's life.

The hours - David Hare, Michael Cunningham 20030571214762,9780571214761

Book Not strictly a biography, but a fascinating example of where biography can lead. Here, the author takes a 'real' person (Virginia Woolf) and imagines the influence her writing might have on two fictional characters living in different historical eras. The Hours is both a homage to Virginia Woolf and very much its own creature. Even as Michael Cunningham brings his literary idol back to life, he intertwines her story with those of two more contemporary women. One grey suburban London morning in 1923, Woolf awakens from a dream that will soon lead to Mrs.Dalloway. In the present, on a beautiful June day in Greenwich Village, 52-year-old Clarissa Vaughan is planning a party for her oldest love, a poet dying of an AIDS-related illness. And in Los Angeles in 1949, Laura Brown, pregnant and unsettled, does her best to prepare for her husband's birthday, but can't seem to stop reading Woolf. These women's lives are linked both by the 1925 novel and by the few precious moments of possibility each keeps returning to.

Summertime: fiction - J. M. Coetzee 20100143118455,9780143118459

Book This is an interesting example of an author putting himself into his work, staging autobiography as a biography which we understand to be at least partly fictionalised. In the text, we gather that J.M. Coetzee has died. The narrative follows the efforts of his biographer as he tries to discover more about his subject.

And when did you last see your father? - Blake Morrison 20071862079781,9781862079786

Book Another example of a biography which is simultaneously an autobiography as Blake Morrison attempts to understand his father's life.

The orchid thief - Susan Orlean 2000009928958X,9780099289586

Book A good example of a hybrid text, which is at once an account of scientific discovery, a biography of 'the orchid thief' and a memoir of the author's own involvement with the subject.

Black Swan Lake: Life of a Wetland - Rod Giblett 2013

Book The biography of a wetland. Drawing on the long tradition of nature writing, this is one of the most contemporary manifestations of it.

But beautiful: a book about jazz - Geoff Dyer 20120857864025,9780857864024

Book Dyer's account of jazz emulates the form about which he writes by inventing 'free form' vignettes in which his subjects are brought to life via fictional scenes.

Someone called Derrida: an Oxford mystery - John Schad 20071845190300,1845190319,9781845190309,9781845190316

Book A highly experimental text, which is part detective quest, part biography of the author's biological father, but also his intellectual father (Derrida) and a memoir in response to his father's dementia.

Nine lives of William Shakespeare - Laurence Wright 07/2014

Article Acknowledging that a biography can never recreate the definitive version of someone's life, this text offers 9 different 'lives' of Shakespeare, interpreting the facts in different ways.

The suspicions of Mr Whicher, or, The murder at Road Hill House - Kate Summerscale 20111408824523,9781408824528

Book A reconstruction of a Victorian crime that has never been solved, this text presents its narrative like a detective novel, although it is all based upon scrupulous research. See also the recent TV adaptations.

Craft: the following texts contain lots of advice on the craft of creative non-fiction; how to turn your research into gripping, accessible reading.

Chapter 3: 'Lives as Narratives' - Susan Tridgell

Chapter An excellent book as a whole, chapter 3 is particularly pertinent to our thinking in week 4, where we grapple with the narrative shaping of people's lives.

Journal of historical biography - University College of the Fraser Valley, University College of the Fraser Valley. History Department (electronic resource)

Journal Check this journal for open access articles on various aspects of biography.

Journal Free access to this edition of a leading academic journal on the practice of biography

The research interview - Bill Gillham c2000

Book Being able to conduct effective interviews is a key professional skill, and also transfers to a wide range of careers.

Creative Commons Attribution 3.0 Licence
Profile Required
Reading intentions and notes are stored against your user profile. Please create a profile to use this feature.
My notes
You must be logged in to add a note
What are item notes?
You can use item notes to make personal notes on any of your reading items. Notes are private to you and will not be shown to other users.
You can review your item notes from the list, the item page or from your profile page.
---
How do I create an item note?
To make notes, first you must be logged in. Once logged in, simply click Add note? next to the list item you wish to make notes on. You can also make notes at the bottom of every item's detail page.
Your note will be saved automatically as you type.
Have you read this?
You must be logged in to set a reading intention
What are reading intentions?
Setting up reading intentions help you organise your course reading. It makes it easy to scan through your lists and keep track of progress. Here's an example of what they look like: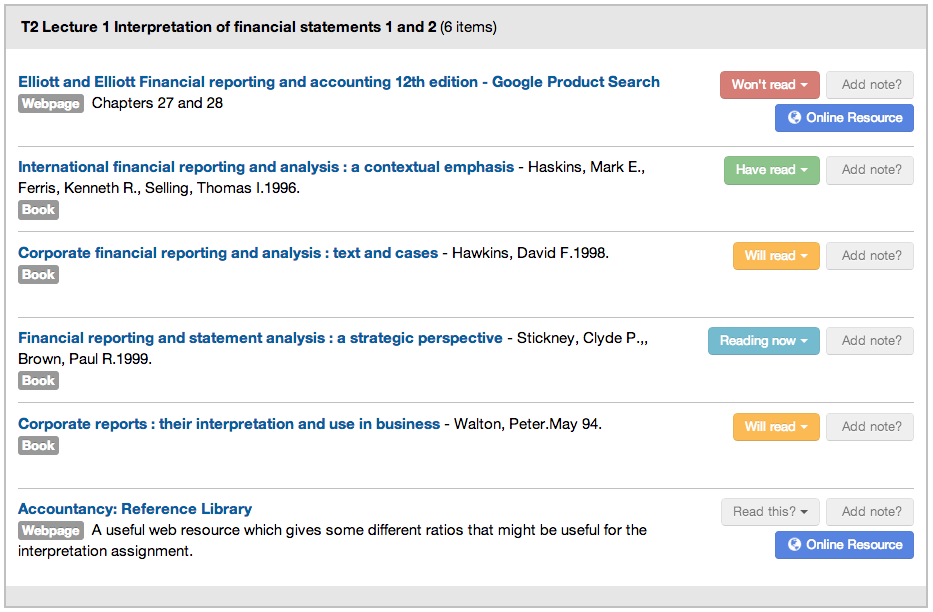 Your reading intentions are also stored in your profile for future reference.
---
How do I set a reading intention
To set a reading intention, first you must be logged in. Once logged in, click Read this? next to the list item you wish to set a reading intention for.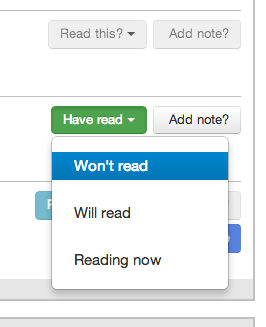 You can also set the reading intention from every item's detail page.