These books are useful for the module and should be consulted. However as we place an emphasis on reading papers for the module we do not recommend a single book for purchase

These books maybe useful for other modules on the PG Course. Ask module leaders before you make a purchase

8 items

Business information systems and technology: a primer - Brian Lehaney, Phil Lovett, Mahmood Shah 2011

Book Core Business information systems and business information technology are integral aspects of modern business, and managers in these areas are now expected to have knowledge of human and managerial issues, as well as technical ones. This concise and readable book is a level-by-level primer that addresses the core subjects in business information systems and business information technology to enhance students' understanding of the key areas. Each chapter begins with a case study and features at the end: a summary of major points, glossary of terms, suggested further reading and student activities. Some areas covered include: Different functional areas of business, including accounting, HRM and marketing Development and implementation of information systems Methods to support the analysis and design of policy and practice Strategic management to align information technology with organizational needs Covering the subject matter in a highly accessible manner, this is an ideal text for both undergraduate and masters students on business information systems, business information technology and business information management courses.

Strategic information systems management - Kevin Grant, Ray Hackney, David Edgar 20101408007932,9781408007938

Book Core Combining a rich blend of research, best practice and policy, Strategic Information Systems Management is the eagerly awaited new introduction to the interconnected world we live and work in. A top-ranked team of global experts combine both industrial and scholarly perspectives, bringing a wealth of experience to make this the complete introduction for 21st century business. This textbook is essential reading for all Information Systems modules with a strategic focus and for broader Strategic Management, Information Management and professional courses.

Strategic management of information systems - Keri Pearlson, Carol S. Saunders, Keri Pearlson c20090470400242,9780470400241

Book Core Pearlson and Saunders' Third Edition of Managing and Using Information Systems: A Strategic Approach gives students the insights and knowledge they need to become active participants in information systems decisions. By demonstrating how IT relates to organizational design and business strategy, this title covers the essential concepts of MIS. Within the 4 th edition, students will also learn how to recognize opportunities in the work environment and apply current technologies in innovative ways. In a concise, updated format, Pearlson and Saunders provide a strategic approach to Information Systems for a senior/graduate level course or as a supplement for any course using additional cases and readings.

Strategic management and information systems: an integrated approach - Wendy Robson 19970273615912,9780273615910

Book Core Every degree programme in business information systems and technology (and the great majority of the fast-expanding conversion MSc programmes in IT for business) includes a course on the strategic issues surrounding information systems. This new edition of an established text meets the need for an accessible and practical text for students studying this subject for the first time. It supports the increasingly wide skills profile expected of business and information systems graduates and postgraduates, by adopting a toolbox approach to techniques and their application, and overall it creates a base from which effective consideration can be given to more complex concepts. The second edition has been completely updated in line with new developments in the field and is now presented in a more attractive user-friendly style.

Webpage ECIS is considered the premier information systems event in the European region and provides a platform for panel discussions and the presentation of peer-reviewed academic research. All submissions are double-blind reviewed and recent acceptance rates have been roughly 30% range. The electronic version of the conference proceedings (1993-2008-excluding 1995 and 1998) and full citations (1993-2008) are available publicly.

Creative Commons Attribution 3.0 Licence
Profile Required
Reading intentions and notes are stored against your user profile. Please create a profile to use this feature.
My notes
You must be logged in to add a note
What are item notes?
You can use item notes to make personal notes on any of your reading items. Notes are private to you and will not be shown to other users.
You can review your item notes from the list, the item page or from your profile page.
---
How do I create an item note?
To make notes, first you must be logged in. Once logged in, simply click Add note? next to the list item you wish to make notes on. You can also make notes at the bottom of every item's detail page.
Your note will be saved automatically as you type.
Have you read this?
You must be logged in to set a reading intention
What are reading intentions?
Setting up reading intentions help you organise your course reading. It makes it easy to scan through your lists and keep track of progress. Here's an example of what they look like: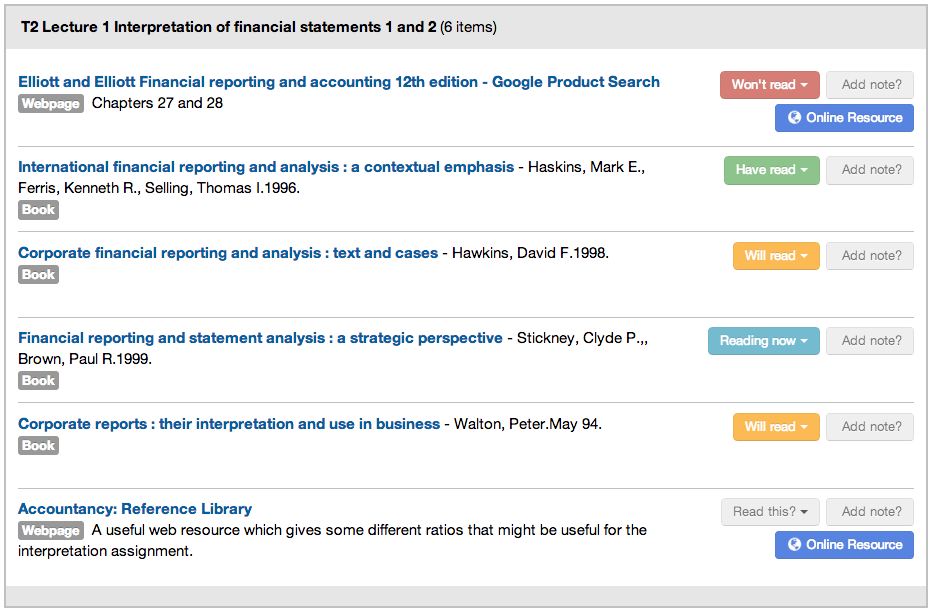 Your reading intentions are also stored in your profile for future reference.
---
How do I set a reading intention
To set a reading intention, first you must be logged in. Once logged in, click Read this? next to the list item you wish to set a reading intention for.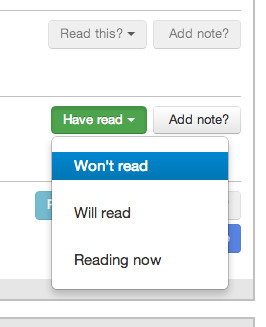 You can also set the reading intention from every item's detail page.